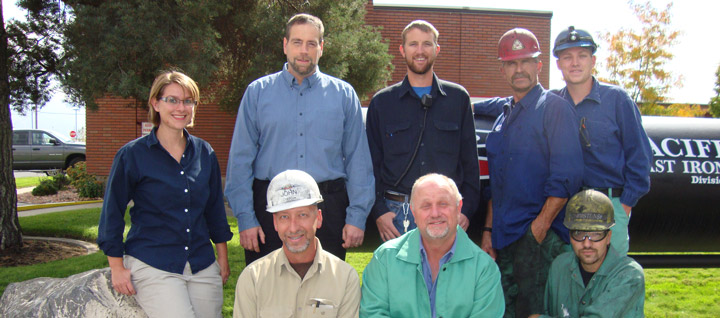 The McWane Ergo Cup competition is held annually. The mission, should you choose to accept it, is to reduce and prevent work place injuries … it is not an impossible mission.
The commitment to safety shown by our team members, on behalf of each other and McWane, is inspiring.

Barb Wisniewski
Teams from McWane facilities around the country present ergonomic-related projects they have implemented within the last 24 months to a panel of health and safety experts. Each project is aimed at reducing injuries, while improving workplace efficiency and transforming processes to best fit the needs of our team members.
"The commitment to safety shown by our team members, on behalf of each other and McWane, is inspiring," said Barb Wisniewski, Vice President Health and Safety. "This is a perfect example of the McWane Way in action."
Ergonomics is the science of fitting workplace conditions and job demands to the capabilities of the working population. This emphasizes the implementation of industry and task-specific guidelines for reducing and preventing workplace musculoskeletal disorders and other injuries.
Each year, every project is judged on measureable outcomes such as return on investment, quantified reduction of injury and reduced workers' compensation costs, among other factors. The successes from these projects are then implemented at other McWane facilities with similar operations to further reduce injury risks company wide.
Good luck to our team members!
2012 Ergo Cup Winners:
First place — Pacific States
Pacific States installed pneumatic-driven wedge(s) on the pipe extractor to break the sand core, which eliminated the need to strike the core 6–8 times with a 14-pound sledgehammer. This task was being performed up to 20 times per hour for each pipe produced, 10 hours per day.
Second place — Clow Valve
Clow Valve won second prize for their workplace redesign, which significantly reduced the number of steps required to assemble each hydrant stem. They installed a new assembly table 4 inches taller than the old table and also added two-hand directional controls. This ergonomically superior redesign eliminates two bends, at least one twist and 50 percent of the steps taken per assembly at approximately 18,000 per year.
Third place — Amerex
The third place Amerex team implemented a crane system, designed a special lifting device to hold cylinders in place and installed a hydraulic positioning device for use when picking up un-welded cylinders and sliding them in place on a seam welder. This change not only increased safety, but also improved the quality of the product and resulted in a lower product cost.
Past Ergo Cup Winners:
2011
First place — Union Foundry
Second place — Clow Water Systems
Third place — Clow Valve
Click here to read more about the 2011 winners.
2010
First place — Amerex
Second place — Clow Water
Third place — M&H Valve
Click here to read more about the 2010 winners.
Moving Industries Forward by Redefining Fire Suppression